Experience the Farm
Grand Tour
Ride the Countryside!
Our family farm has been feeding Hawaii for over 100 years with the freshest local produce. We're always looking for better ways to care for the land and the people we are blessed with, which is why education and sustainability is so important to us.
While it's very common in the agriculture industry to waste good food from the fields (simply because of flaws and imperfections), we decided to do something different... we opened our Farm Café featuring those good fruits and veggies on our menu.
Come learn OUR STORY and take a tractor pulled wagon ride through our fields to learn what it takes for farmers to put fresh food on our local supermarket shelves.
Tours are now offered Fridays, Saturdays and Sundays at 1pm and typically lasts about 1 hour. Tour experience includes a tasting of season farm fruits and chocolate made with our farm grown cacao!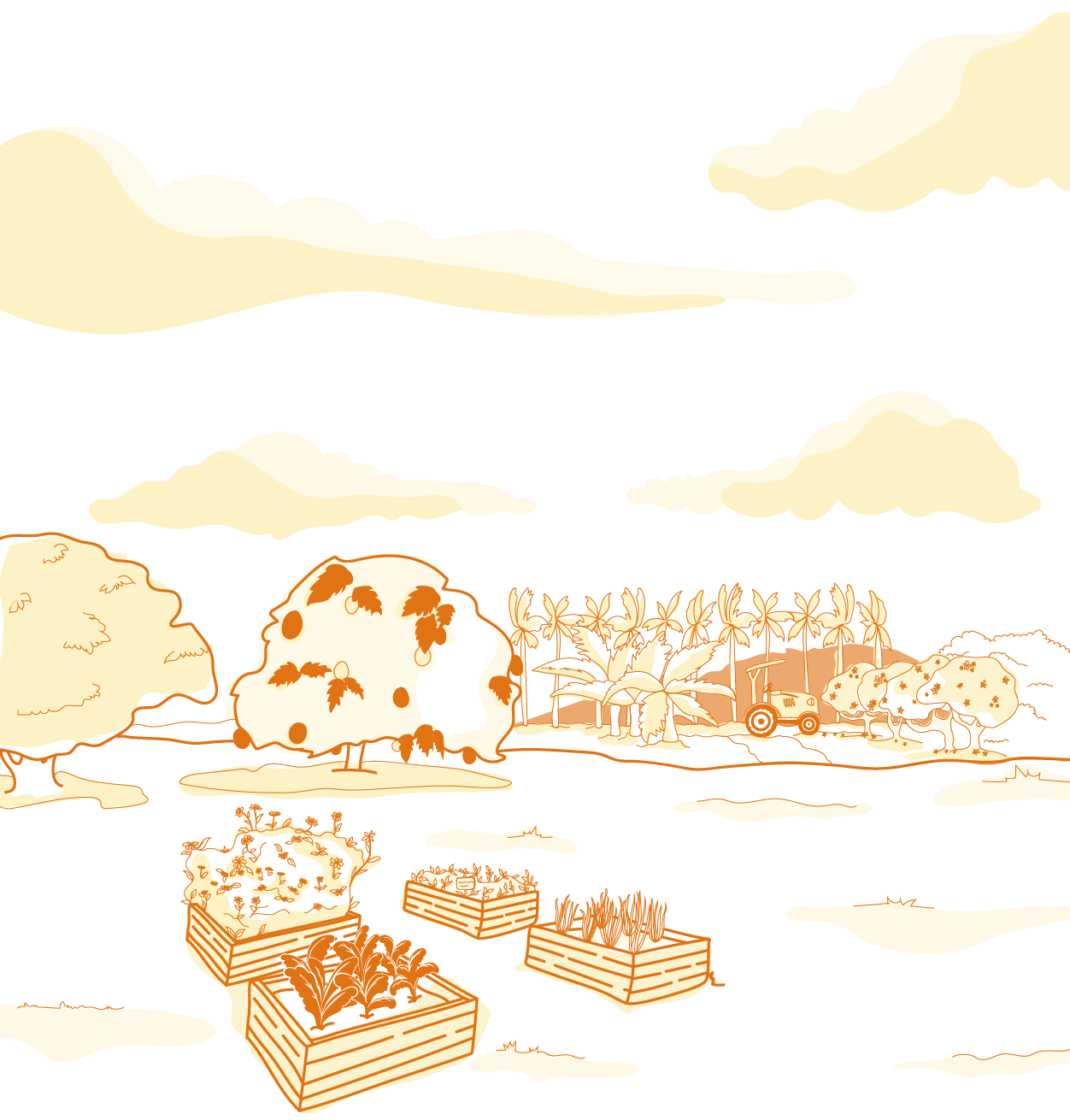 Grand Tour Details
HOURS:
FRI, SAT, SUN, 1:00PM
Special 11:15AM Tours available on SELECT dates. Please see our Tour Calendar for more information.

Tours are typically 1 hour & includes sampling of our seasonal farm fruits.
TICKET PRICES:
Adults - $50
Children (Ages 5 – 12) - $40
Ages 4 and Under – Free
(Will need to ride on accompanying adult's lap. Does NOT include fruit/chocolate tasting.
Items may be added to your tour package for $4.00)
Farm Special: Kama'aina/Military/Senior (65 years & older) receive $5.00 off! (Please show I.D. at tour check-in)
Cancellation Policy:Customers will receive a full refund with 24 hours notice of cancellation. Customers will also receive a full refund in case of operator cancellation due to weather or other unforeseen circumstances. Contact us by phone to cancel or inquire about a cancellation. No-shows will be charged the full price.
Booking note:In the event (day of) weather is not tour permitting, please provide us with a local contact number or the number of the hotel you are staying at while on island so we may contact you to reschedule. You may also reach us at 808-861-0867 to check weather the morning of your tour.
ARRIVE EARLY:
Please CHECK-IN 30 mins prior to your Tour time.

TOUR REVIEWS

Enjoyed the tours much. Tractor driver/guide was friendly and knowledgeable on agriculture business. Really enjoyed fruit salad after the tour. Salad was made of fruits picked by the guide during the tour.
Lawrence C.
Kailua, HI

I love that there is such a family feel to the farm and tour. Everyone is so friendly and kind. They were eager to answer all of our questions and made sure we had a great time.

The papaya smoothie at the end is so good! The second time around we also tried the pesto pizza and panini. They were so fresh and good!
Hana K.
California

My daughter and mom have been on the tours many times and I finally got to go on the grand tour. It was fascinating learning about how our food is produced and seeing the fields. They have so many different types of plants growing. It gave us a true appreciation of how our community is fed.
Patty V.
Honolulu, HI